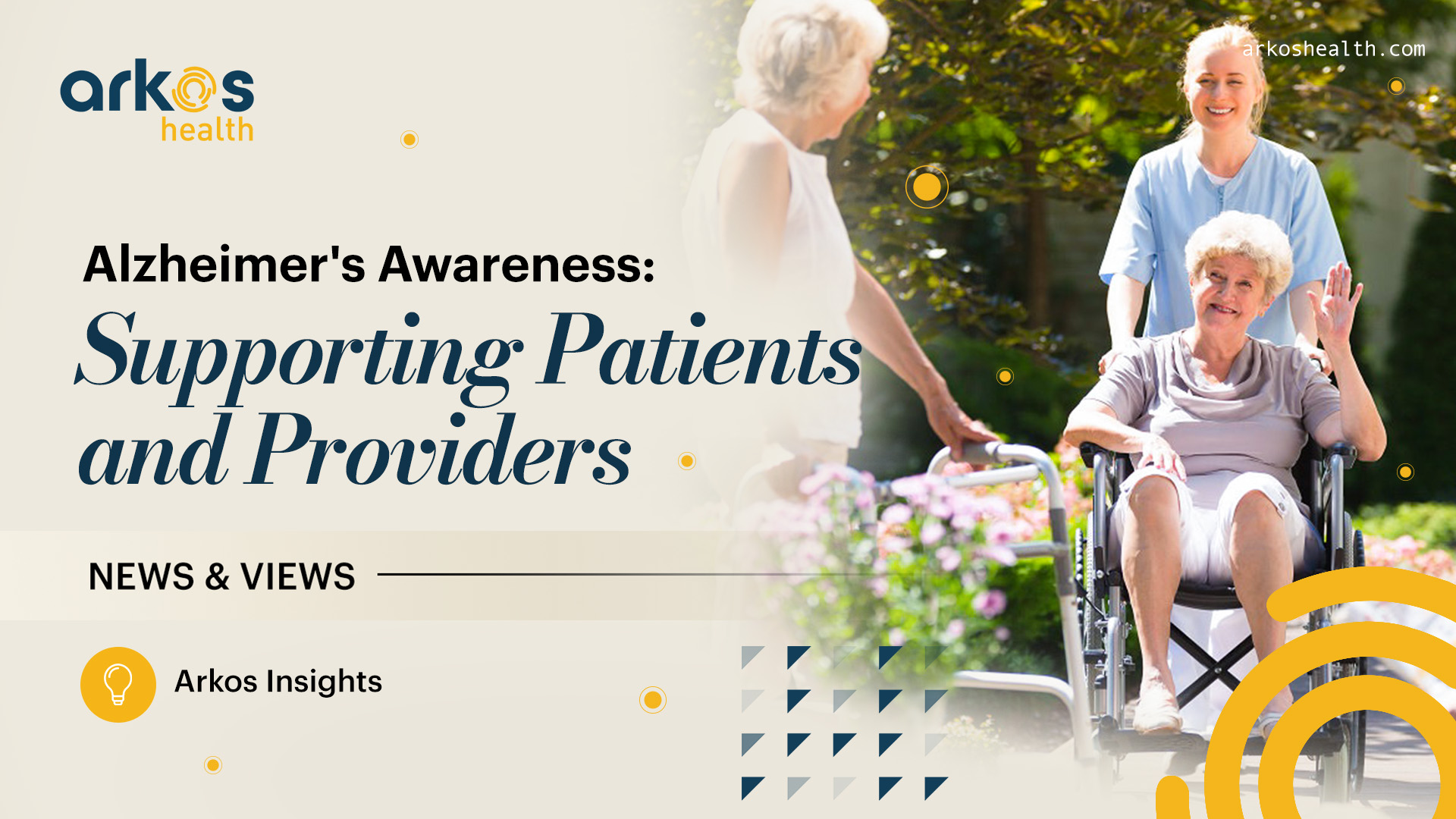 Throughout the month of June, we are raising awareness within our company about the trials and triumphs happening in Alzheimer's space.
Current Alzheimer's statistics
Alzheimer's kills more than breast cancer and prostate cancer combined.
More than 6 million Americans are living with Alzheimer's disease.
One of three seniors die with Alzheimer's disease.
By 2060, the number of people age 65 and older living with Alzheimer's is projected to reach 13.8 million.
Alzheimer's disease is caused by abnormal brain changes, as are all forms of dementia. These changes trigger a decline in cognitive abilities so severe daily life and independence is disrupted. Alzheimers, which is not isolated to the older population, can also affect behavior, feelings, and relationships.
According to the Alzheimer's Association, this disease is not a normal part of aging – it's a progressive brain disease that causes problems with memory, thinking, and behavior. Alzheimer's is the most common cause of dementia, accounting for 60% to 80% of dementia cases.
Although there is currently no cure for Alzheimer's, researchers are paving the way for future treatments by uncovering new insights into the biology of the disease.
There is not one cause of Alzheimer's disease. Researchers believe many factors are involved, including genetics, lifestyle choices, and environment. While some risk factors like age, family history and genetics can't be changed, emerging evidence suggests there may be other factors people can influence.
The greater risk of for Alzheimer's disease is age. After age 65, a person's risk of developing the disease increases dramatically. About a third of people age 85 or older have Alzheimer's.
The disease may also be hereditary; people who have a parent, brother or sister with Alzheimer's are more likely to develop it than those who do not.
Two types of genes influence whether a person develops a disease: risk genes and deterministic genes. Risk genes increase the chance of developing a disease but do not guarantee it will happen. Deterministic genes cause disease, which means anyone who inherits a deterministic gene will develop a disorder; such genes are rare and cause less than 1% of reported cases.
Black Americans are about twice as likely as White Americans to have Alzheimer's or another dementia, and Hispanic Americans are one-and-a-half as likely. Though no one knows the exact reason for these differences, researchers believe they are related to disparities produced by the historic and continued marginalization of Black and Hispanic people in the United States – disparities between older Black and Hispanic populations and older White populations in life experiences, socioeconomic indicators and, ultimately, health conditions, according to the Alzheimer's Association.
Women are more likely to develop Alzheimer's than men. This difference may be explained, in part, by the fact that women live longer.
Lowering the risk of cognitive decline.
Studies how a strong connection between serious head injury and the future risk of Alheimer's, another good reason to wear seat belts, bike helmets, and keep homes safe to reduce the risk of falls.
Research also shows there are healthy lifestyle habits that people can adopt to help keep their brain healthy.
These include eating a healthy diet, staying socially active and exercising the body and mind. Not using tobacco and avoiding excess alcohol is also good for brain health.
Science tells us there is a strong connection between brain health and heart health.
The risk of developing Alzheimer's disease experience memory loss as well as difficulties communicating, learning, thinking, and reasoning. As the disease progresses, individuals may also experience changes in personality and behavior, such as anxiety, or agitation, as well as delusions or hallucinations.
Treatments
The U.S. Food and Drug Administration (FDA) has approved medications that fall into two categories: drugs that may delay clinical decline in people living with Alzheimer's, and drugs that may have temporarily mitigate some symptoms of Alzheimer's disease.
To learn more about Alzheimer's and what you can do this month to contribute to research, resources, and support, we encourage you to visit the Alzheimer's Association website.