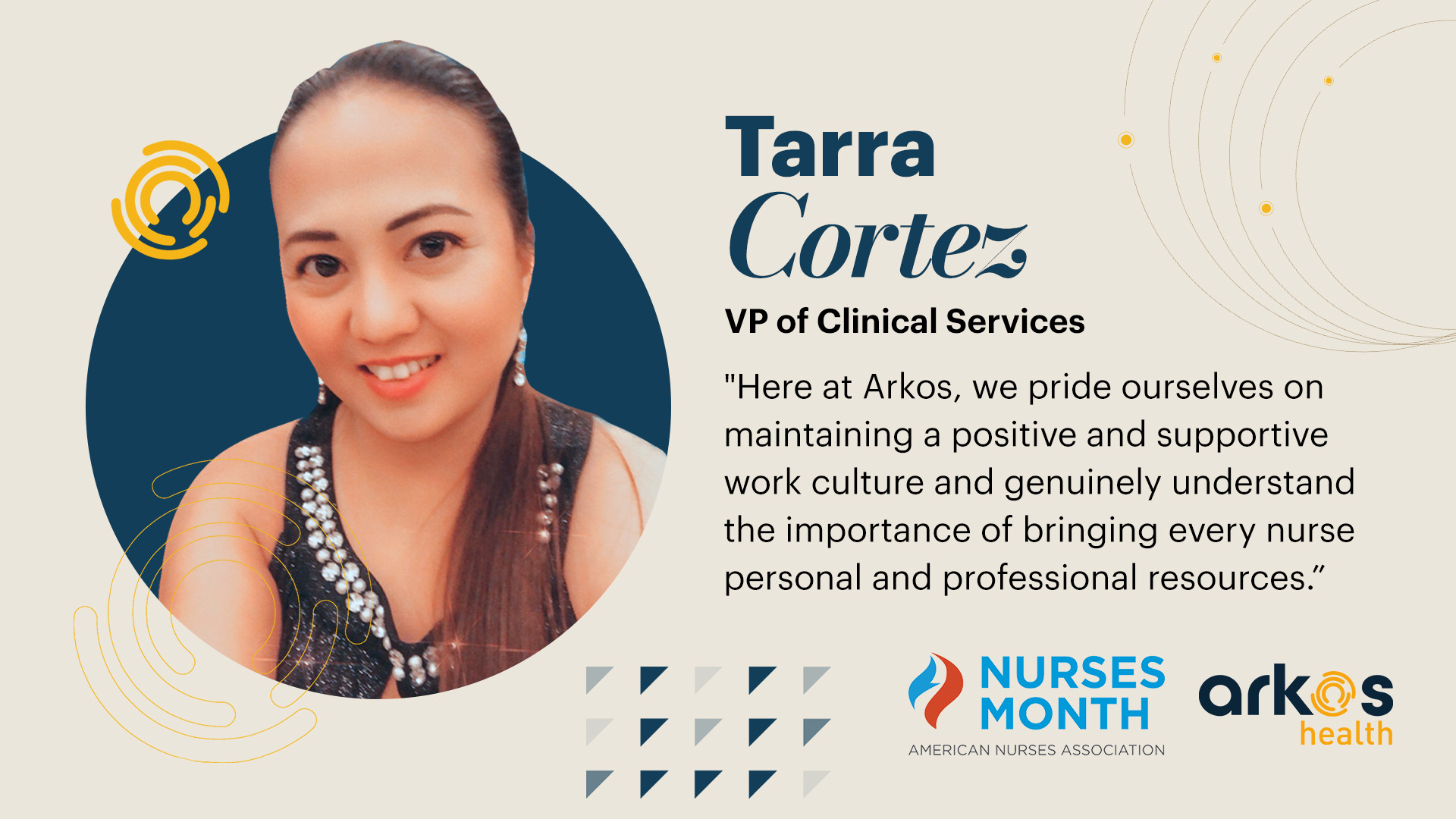 Since I was a child, I wanted to become a doctor, and as part of that dream, I pursued a bachelor's degree in biology as a pre-med student. A trip to the US changed my path. An aunt who was a nurse at a cancer institute hosted my vacation and the stories she shared about how patient care could significantly affect patient recovery gave me a broader perspective of what nursing is. I realized going to nursing school would be a better choice for me. Thus, a degree in nursing guaranteed the fulfillment of my lifelong passion for patient care.
I always wanted to build my own hospital when I was younger so that I could help more people. I did not really expect myself to be in a leadership role in nursing because I am a natural introvert. But my passion for helping and teaching others led me to where I am today – a proud member of the Arkos Health family. Here, I continue to learn the importance of leadership in not only making patient's lives better, but in making the lives of the nurses I am so fortunate to work with better too.
Three Top Qualities That Define Nurse Leadership: Honesty, Transparency, and Resiliency.
In my experience, honesty and transparency are essential for building trust, not just between me and my team, but also the patients and clients I interact with. Being well-informed allows me and my team the ability to give proper advice to patients to make informed decisions. Resiliency is important because every hard working and deeply caring nurse needs to constantly adapt, given ongoing changes in the healthcare system, unprecedented health crises as we experienced during the pandemic, and the importance of having time and energy for the many roles nurses play outside of work, supporting their families and communities.
Overcoming Challenges
As an introvert coming from an ethnic minority, it was (and still is) a challenge for me to present to a large group. As a leader, I recognize it as a weakness since it is part of the job to be able to convey my message to my team and clients. As such, I am working to overcome my fears with self-driven courses on how to prepare presentations and share them with confidence. I have learned how powerful it is to come fully prepared, ready to express my ideas and answer questions from the audience. As managers and leaders, nurses have new responsibilities – to educate, to mentor, and to support, and to put ourselves out there and engage fully, even if that is difficult at times.
Continual Enlightenment Leads To Greater Quality for All
Healthcare is changing constantly, and with nurses most often at the front lines with patients, it is extremely important too for leaders to make sure their teams are updated when it comes to best practices, new regulations, new treatments, new technologies, and other developments that can improve the way they work and deliver the best possible outcomes. Our company's commitment to ongoing education and mentoring is a hallmark of our approach and culture. Whether it is through weekly meetings, one-on-one coaching sessions, attendance at conference and events, or access to online education resources, we make sure every one of our talented nursing staff is always up to date and have completed the necessary training they need and deserve. They receive appropriate trainings and evaluation before they see any patients. I am finding that some of the best teachers we have here are the nurses themselves, and given our collegial environment, it is such a joy for me to watch nurses helping each other succeed and grow.
Patient Experiences and Breakthroughs Keep Nurses Going!
I've had countless meaningful interactions with my patients, and there is one I will never forget. Back in 2015, when I was still a care manager, this gentleman had more than 20 medications prescribed, and was understandably confused. I asked him to start seeing me in the office every week so I could set up his weekly med box. At every meeting, I would focus on one or two medications and educate him about the dose, frequency, indications, and side effects, then would test his knowledge the following week. I also created a table of his medications with pictures so he can identify the medications on his own. Eventually he was able to organize his meds using the pill box on his own. It took us a couple of months to go over all his medications but after all this, he was able to do it on his own without my help and was discharged from Care Management services.
Advice for Those Considering Nursing as a Career
Nursing is so much more than a way to make a living. When asked, I often say to aspiring nurses, "don't go into nursing if you are only in it for the money." Nursing is so much more than that. Nurses need passion, empathy, and patience to succeed. The same goes for aspiring nurse leaders: always remember why you chose nursing and share your own passion with the nurses you manage and mentor. At the end of the day, we should be making decisions based on what is good for patients, and success follows when we do.
Caring for Nurses Makes Caring for Patients Simply Better
Here at Arkos, we pride ourselves on maintaining a positive and supportive work culture in every area of our organization, and genuinely understand the importance of bringing every nurse personal and professional resources. Their jobs are not easy, but they are easier when our nurses know that we really care about them – so they can care for their patients. As a manager, I always make sure that I have 1:1 time with every direct report, and get to know them on a personal level, and to make sure that any concerns they raise during their conversations with me are acted on. If I can't provide immediate answers for them, I find a resource for them where they might find the answer. I also set expectations with the team so they know what I expect from them and what they can expect from me; genuinely caring relationships within our team extend naturally to the patients we care for.
Cultural Competency Makes a Major Difference
One the most interesting and important trends in healthcare is Cultural Competency, which means taking the time to learn about and understand how different cultures in our communities perceive our system of care in the United States. Patience is key to bringing a great experience to our patients and their loved ones. The families of patients can become understandably frustrated with the medical community at large because they do not understand the medical jargon used, for example, so we need to make sure we explain to patients in layman's terms. Offering multilingual care is a plus, but even in the absence of that, every nurse can learn about and understand the practices of the patients based on their culture so we can personalize their treatment plan. When we do, they will become more receptive, and cooperative when it comes to a lifetime of care that leads to better health and greater happiness.
It is also very important to ensure that we let patients discuss their concerns, set expectations on what we can help them with and if we are unable to help, tell them the truth and refer them to an organization that can help.
The Future of Quality Care is Human Centered Even As New Technologies Emerge
It is important for nurses and all contributors in the healthcare system to embrace software and systems, for example AI which is positioned to improve patient and population outcomes. When new technologies support complex needs, for example fast and accurate diagnosing of patients, and personalized guidance when it comes to prescribing the best treatments, we can free up time for human nurses to provide empathetic, hands-on, compassionate, and intuitive patient care.
Nurses make a difference in every patient's life that they touch because we advocate for our patients and at our best treat them the way we want to be treated. I push myself to study and understand the positive impact new technologies promise, and constantly encourage our nurses to keep up and build new skills and competencies. Consequently, we can expand our ability to make real differences and impact even more lives.
When we simplify and streamline how we serve patients, and when we make healthcare easier for our patients and their families, we have time to make an even greater difference over time.