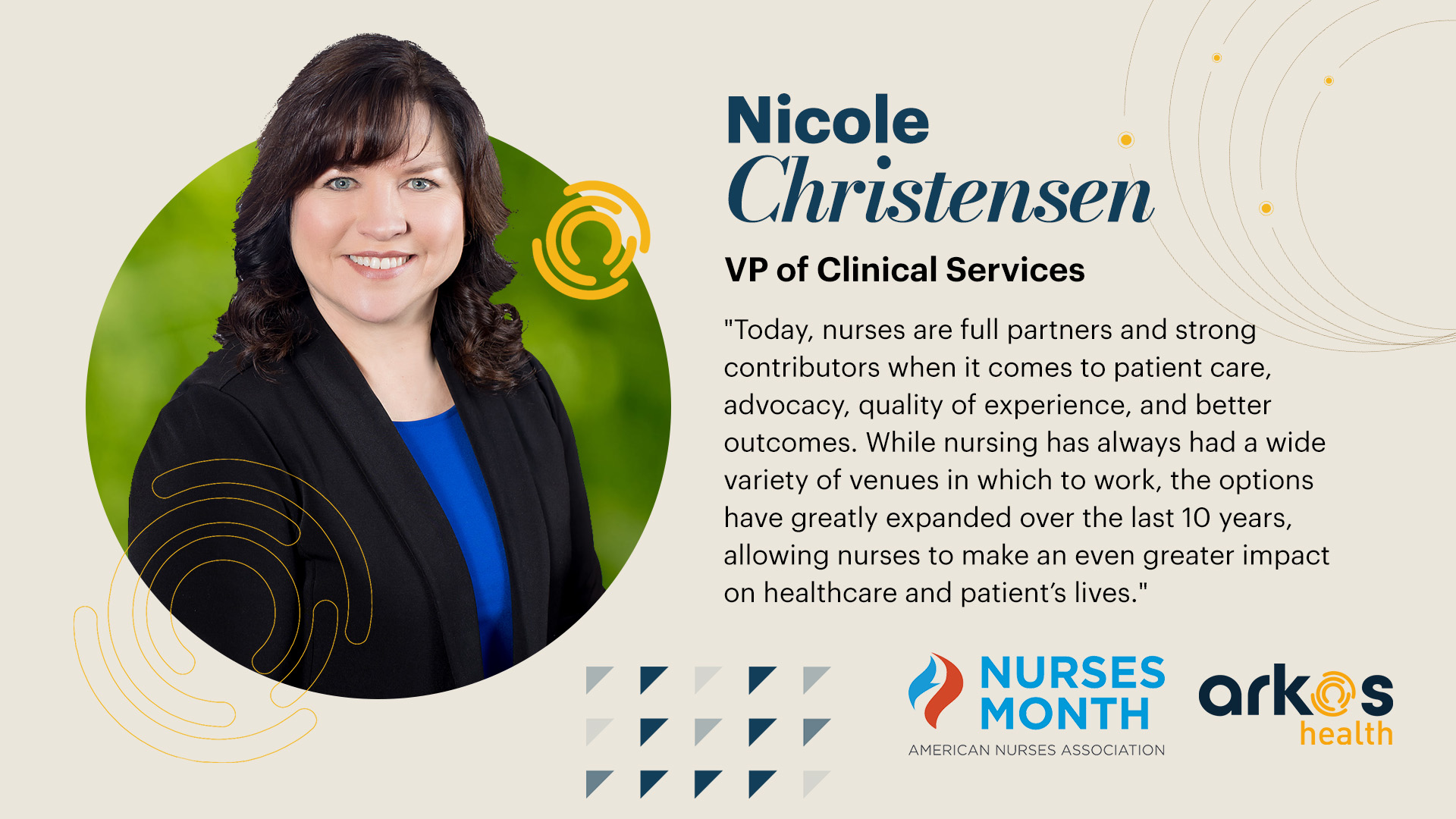 My passion for nursing began in North Dakota, where I've lived for most of my life, and had the great fortune to grow up in a wonderful family, with parents who passed along a strong work ethic, drive for excellence, and a desire to help others.
Inspired by my Mom, I became a CNA at a local nursing home while attending high school and enjoyed the opportunity to help people in their times of need: I discovered nursing.
I have been in the profession now for 30 years and am grateful to have been able to serve in all areas of nursing, including within rural communities, across OB, OR, ED, ICU, academia and administration.
While I have a few family members in the nursing profession, it was not until one of my siblings developed a chronic health condition requiring significant care that I saw the true impact a nurse can make on a patient's experience and outcomes. Since then, I have personally experienced nurses positively impact my family in countless ways. This has not only inspired me as a fellow nurse, but also made me extremely proud to be a part of this amazing profession.
That's when I knew for certain this was the career for me.
Nursing has changed greatly over the past three decades. When I started in the profession, believe it or not, we wore all white uniforms. Scrubs were only allowed for those working in procedural areas. Not only has the dress code changed, but also the role of the nurse in patient care. Gone are the days of nurses just carrying out the orders of the physician.
Today, nurses are full partners and strong contributors when it comes to patient care, advocacy, quality of experience, and better outcomes. While nursing has always had a wide variety of venues in which to work, the options have greatly expanded over the last 10 years, allowing nurses to make an even greater impact on healthcare and patient's lives.
The Covid-19 pandemic put immense pressure on nurses in every setting, and nurses rose to the challenge.
The global pandemic brought to light how very important nurses are across the entire healthcare spectrum. The healthcare industry has relied on nurses for so many years, but because of the crisis, the role of nurses was in the spotlight like never before.
Many nurses suffered from considerable burn-out and PTSD, and many understandably left the profession. Self-care and wellness, as well as support for nurses generally, has become a focus for many employers and educators, which is a positive trend. Another less positive trend is nurses moving away from bedside or direct patient care, which we at Arkos recognize and are working to address with a new vision, including a Value-Based Care focus, a genuinely compassionate culture, and leaders who are developing tools and systems that are making life easier for providers, payers and – of course – our patients.
Nurses are embracing new technologies, without allowing systems to replace the human touch, experience and knowledge that great nurses accrue over their careers.
The role of nurses as part of a collaborative healthcare team is always evolving, in parallel with digital tools, and we encourage nurses to advance their own careers and the entire nursing profession by not only adopting new approaches but by adapting to them and – even more important – contributing to the development of them. Nurses offer a priceless contribution to the development and testing process, and here at Arkos, we are playing an active, pivotal role in designing for the future.
Continuing education continues to evolve in many positive directions.
Nursing education has changed significantly in the past 15 years, which is one of the most exciting and welcome developments in the healthcare industry. Once a very limited, standard path with a specific curriculum and classroom-based education, we are now in the era of self-guided and more flexible learning, certification, and knowledge expansion.
In my professional journey, I have seen the positive and negative impacts of virtual or "on-line" learning models, and while it allows students unprecedented flexibility and efficiency in earning their degrees and credentials, the downsides include less opportunity to build communication skills and to benefit and grow from human connection and mentoring, which have been and will always be fundamental to success.
Critical thinking has and always will be significant in our profession, and only through hands-on experience can nurses learn how to put the pieces together, regardless of what role they are playing. There is no substitute for the sharing of knowledge and experience, especially for new nurses, who can learn a lot from education, but can learn a lot more from role models.
At its best, technology frees up time for nurses so they can authentically connect with their patients and their colleagues: this keeps the human connection at the heart of nursing.
The Value-Based Care model that is at the center of Arkos' innovation hinges on patient outcomes and quality where nurses have always played a vital role.
Nurses at the bedside can impact patient outcomes in so many ways, from reducing hospital-acquired conditions to impacting the length of stay and post-acute metrics. Utilizing the skills, experience and intuitive instincts across nursing teams, modern approaches are transforming health systems for the better. The impact nurses have on patient outcomes is immeasurable, but with advanced software that is elegantly integrated with workflow and reporting, we can deliver metrics and learn from patterns that will drive improvements and simplification.
The national shortage of nurses in the United States is alarming, and how our leaders meet the moment has never been more critical and here's why.
Nursing is universally known to be one of the most challenging and stressful professions in the world, yet also one of the most respected. The promotion of this profession can be done through providing nurses support, tools, recognition, and financial appreciation. Supporting the nursing profession in turn supports access to quality care and overall health of the communities in which we live. Nurses have more choices than ever today, and especially those nurses who idealistically chose the profession because like me, they deeply wish to help others, are being attracted to healthcare companies whose cultures reflect an understanding of the importance of support, opportunity, and investment in providing excellent experiences across the board through education and innovation. Nurses will continue to be at the forefront of developing ways to efficiently provide care in all venues in which they serve our communities. Supporting and mentoring the next generation of nurses is imperative today and into the future.
Making a real difference is within reach, and for nurses like me, is an inspiring call to action.
I love being a nurse, I love supporting nurses, and I love mentoring the next generation of nurses. I've been asked now for decades for my advice, and as part of this years National Nurses Month, sponsored by the American Nurses Association, I am honored to share this with my fellow professionals:
Never stop learning and growing. Learn from others, foster growth. Seek opportunities.
Always be professional. Your patients and their loved ones are counting on it.
Find your passion and make an impact. When you love what you do, you can do amazing things.
Always remember the reason you went into this profession. Always keep the patient at the center.
Embrace your profession. Nurses have the privilege to help humans enter this world and to guide them from the moment of birth to their final moments on earth…and everything in between. Recognize the privilege and honor the moments.
Never underestimate the power of a team. Support every member of the team, even when they are not at their best.
Take care of yourself, so you can take care of others.
Mentor every chance you get – share your knowledge and experience – support & celebrate your colleagues – grow the next generation of nurses.
As healers, as helpers, and as human beings, nurses are in an extraordinary position to be the change in the world they wish to see, and to shine the light in times of darkness. We have the honor to make positive differences in the lives of every patient, their families and friends, and their communities in ways we may never realize, passing along lasting impressions and gentle memories along the journey.