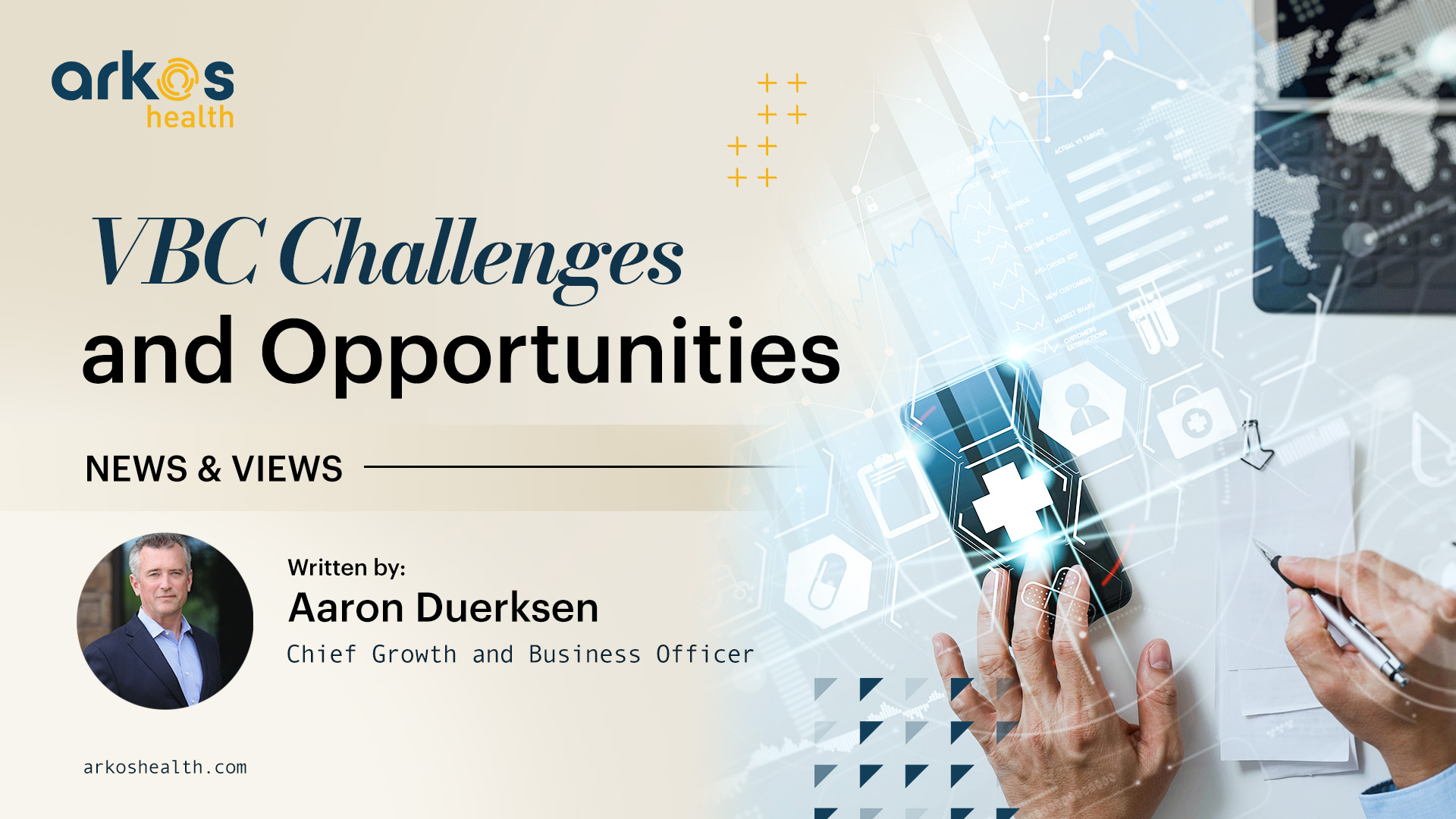 In my last article, I shared the two primary Value-Based Care (VBC) contracting relationships between providers and payers and how, despite a decade of pushing VBC arrangements, only one-third of providers participate in two-sided risk contracting.
Since Arkos Health is in the business of making VBC relationships easier, we set out to understand why it is so hard for payers and providers to take upside and downside risk together.  This article focuses on the main obstacles for health plans in converting provider contracts to VBC arrangements. The following information was collected from a market survey we commissioned through the independent healthcare advisory firm, Marwood Group.
A large market with unmet needs.
What does non-value-based care spending look like in the United States? How many dollars are flowing through the system in fee-for-service (FFS) or upside-only payment arrangements? According to our research and data from Healthcare Payment and Action Network reports, the numbers are very high across Medicare Advantage, Managed Medicaid, and Commercial markets.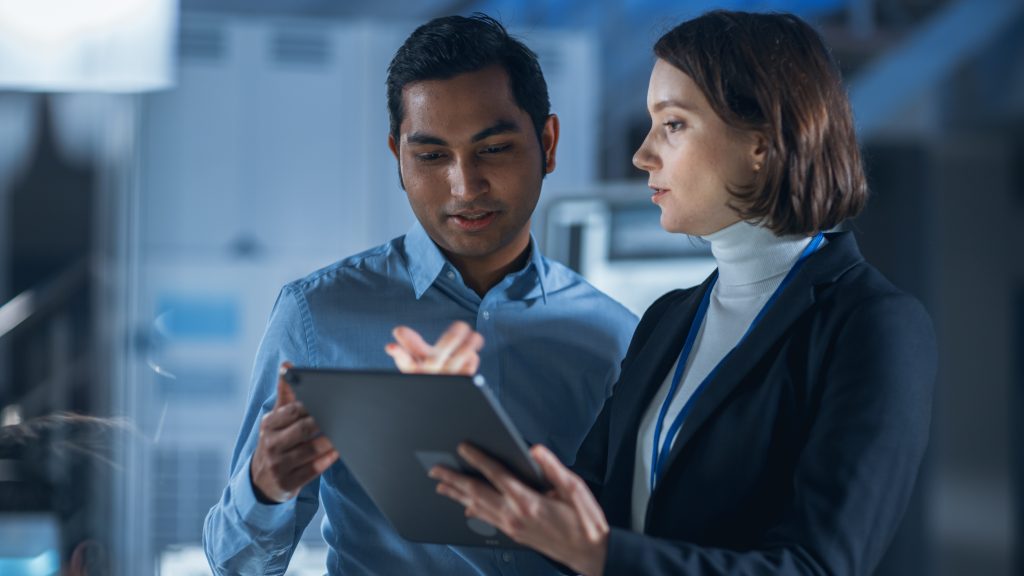 2021 – Out of a total spend of $800 billion, only $180 billion or 22% of all healthcare spending in the three markets was captured in full-risk VBC contracts. 26%, or $210 billion are captured in upside-only arrangements, and 52%, or $412 billion are still settled in FFS price schedules.
2022 – Out of a total spend of $860 billion, $217 billion or 25% of all healthcare spending in the three markets was captured in full-risk contracts. $238 billion, or 28% of payments in upside-only arrangements, and $404 billion, or 47% were still in FFS.
2023 – 2027 – The market is anticipated to grow 7% annually and while we see modest growth in full-risk VBC contracting, by 2027, the market CAGR will stunt the impact of two-sided risk adoption. Our estimates place the market at $1,190 billion by 2027 with roughly 25% of that market in full-risk VBC arrangements, or only a 3% growth in VBC adoption over a seven-year period.
As we breakdown each of the markets, we see the Medicare Advantage market leading the way at roughly 35% of payments tied to two-sided risk contracts, Managed Medicaid at 19%, and Commercial at 12%.
Why health plans want to transition to VBC arrangements.
In my previous article, I shared Humana's VBC reports from 2021 and 2022. The reports compare VBC administered patient outcomes versus those outcomes in standard FFS relationships. A few highlights from the reports:
VBC providers outperformed non-VBC providers in proactive health screenings such as eye exams, controlling high blood pressure, hypertension, and diabetes between 6% and 19%.
Preventative screening performance resulted in a full Star increase for VBC providers (4.2 Stars) versus non-VBC providers (3.1 Stars).
Increased VBC primary care patient engagement not only improved quality ratings over non-VBC providers, but they also reduced unnecessary hospitalizations by 6.4%, or 36,000 fewer inpatient admissions.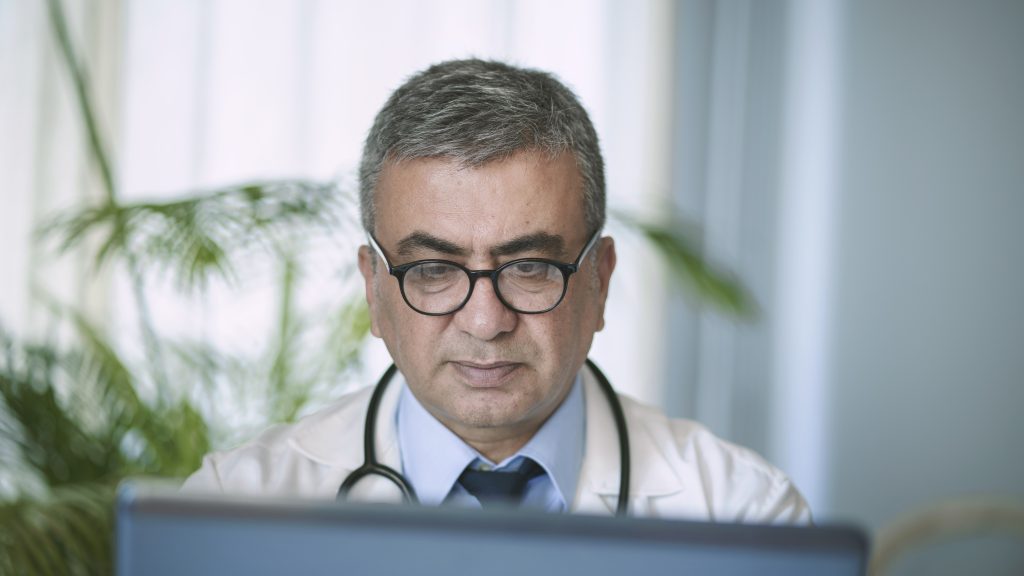 In our market survey, one health plan executive told us, "VBC gives us more flexibility in pricing and a better sense of modeling costs year over year, which helps to build more consistent plan design and be more predictive when it comes to cost of care. We want to give the provider more financial incentive and reward as the first line of defense".
We asked a group of health plan executives about their key initiatives relating to VBC, and they gave us three priorities:
Shifting all independent providers to some level of risk-based contract. They admitted that since VBC is new to most of their providers, they push those providers into upside-only agreements with a longer-term goal of moving them to two-sided risk.
Converting large health systems, IPAs, and specialty practices to risk-based contracts. Health plans want specialty services such as oncology and cardiology to manage their more costly members.
Converting upside-only providers to full-risk contracts. Plans take a market-by-market approach and understand that some providers are more prepared than others in moving to two-sided risk.
Main payer barriers preventing VBC adoption.
When we asked health plan executives about what prevents them from moving more providers into risk arrangements, they gave us the following categories:
Product Issues. Providers are more comfortable with taking risk on Medicare Advantage. The population is largely concentrated within a certain age and demographic band while the quality metrics are well defined, and the premiums are generally higher. Focusing on preventative screenings and care management for high utilizers can typically yield positive results. However, challenges exist with Medicaid and Commercial populations that limit risk taking. Within these populations, you have a broader age and demographic range from infants to seniors. With that broad demographic range comes huge variations in health needs from immunizations to serious health conditions that are often exacerbated by mental health and socio-economic conditions. Due to these variations, providers who may take risk on Medicare will not have the comfort level in Medicaid and Commercial populations.
Provider Readiness. Many health plans only encourage these contracts if they know the providers have the scale and resources to handle the risk. Health plans admit that outside of the few national brand primary care groups and large health system-owned practices, most independent practices lack the ability to convert into these VBC relationships.
Panel Dynamics. Basing risk payments off the Medical Loss Ratio (MLR) is tricky at the practice level due to the size of patient panels and adverse selection issues that may exist within those panels. If practices have a larger concentration of members from a specific health plan, it is easier to develop an actuarially sound VBC model that protects the practice from downside risk exposure and one or two high-cost patients that invert the economics of the contract. However, most primary care providers operate small practices without member concentration making VBC difficult to broadly implement.
Despite the benefits, the road to value-based care is not a straight line for payers.
In my next article in this series, I will detail the issues surrounding "provider readiness".
At Arkos, we are focused on making value-based care more accessible for health plans and their provider networks.
Guided by our mission to be the trusted platform for payers, physicians, and patients in the evolution to value-based care, we help payers and providers extend and enhance their services to unlock the benefits of these emerging models and improve patient outcomes while reducing costs. Our platform approach allows health plans to convert entire provider networks into value-based care arrangements while keeping important operational functions with the plan.
Without the right infrastructure – the right people, processes, cloud services, secure networking, and data-intensive approach – Two-Sided Risk Models are very difficult to implement and scale.
We make value-based care easier.